Last Week Senator Harris Toured CA Sites
Impacted by Trump Budget
Friend –
Senator Harris spent the Memorial Day state work period last week visiting key sites in California impacted by President Trump's budget and the GOP Health care bill.
On Wednesday, Senator Harris, a member of the Senate Budget Committee and the Senate Committee on Environment and Public Works, met with officials at the Port of Los Angeles. Harris was briefed by officials on the national and regional impact of the Port. The Trump Administration's proposed budget includes damaging cuts to transportation, goods movement, and workforce development. Harris also toured part of the Port. The Port of Los Angeles is the nation's largest and busiest container port. It creates nearly 500,000 jobs within local counties and 1.5 million jobs nationwide. President Trump's proposed budget would cut key programs it depends on, including workforce training programs, infrastructure development grants, and port security. As a member of the Senate Committee on Environment and Public Works, Harris sent a letter of support to U.S. Department of Transportation Secretary Elaine Chao for America's Global Freight Gateway: Southern California Rail Project to secure a grant under the Department of Transportation's Fostering Advancements in Shipping and Transportation for the Long-term Achievement of National Efficiencies (FASTLANE) program. This project will remove freight bottlenecks to the Port of Los Angeles and Long Beach, which are the first and second busiest container ports in the nation.
*Hover over and click LA port photos for embedded video of her visit. 
On Thursday, Senator Harris met with patients and physicians at the Martin Luther King, Jr. Outpatient Center in Los Angeles. At the clinic, Harris was briefed on the Center's critical role in providing substance abuse treatment, including opioid addiction, to patients in Los Angeles, many of whom are covered by Medicaid. The GOP health care bill cut more than $800 billion from Medicaid. The President's proposed budget would cut up to an additional $616 billion from Medicaid. Additionally, the GOP health care bill would result in 14 million Americans losing health care coverage next year. The Center for Disease Control estimates that more than 4,600 Californians die each year from opioid overdoses, including heroin, and that number is expected to rise. Medicaid is the largest payer for opioid treatment, and both the GOP health care plan and Trump's proposed budget would potentially make substance abuse treatment more expensive or completely unaffordable for millions of Americans. Previously at the Center for American Progress Ideas Conference, Harris spoke out against U.S. Attorney General Jeff Session's revival of the War on Drugs and outlined how we can effectively treat the current opioid epidemic. Harris urged policymakers to treat addiction as a public health issue and to fight "not a War on Drugs but a War on Drug Addiction."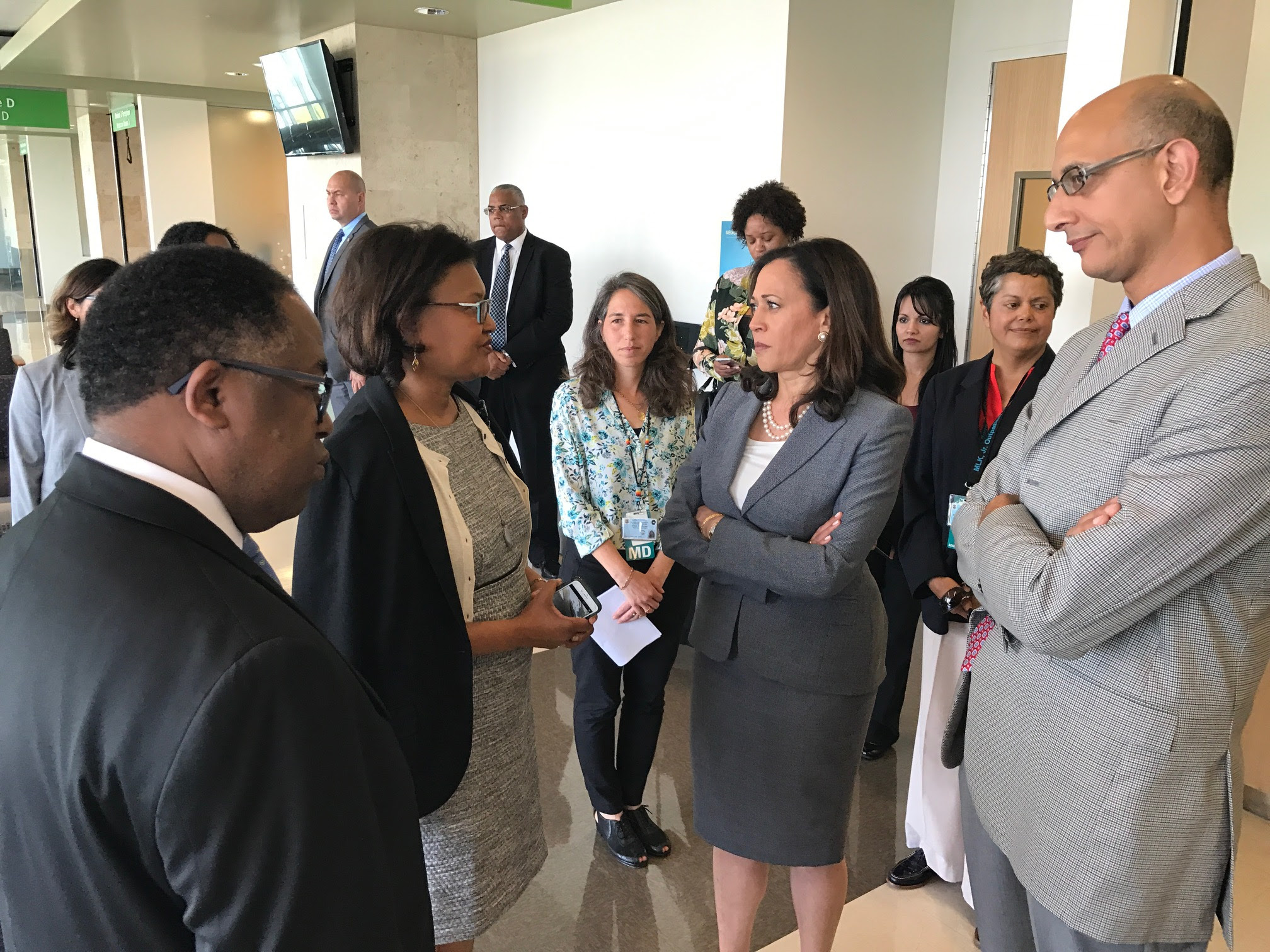 The Senator also met with Navy officials at U.S. Naval Base Coronado on Friday, where she toured the U.S.S. Theodore Roosevelt and visited the Navy SEALs at the Naval Special Warfare Command and training center.
On the U.S.S. Theodore Roosevelt, Harris received a briefing on the ship's capabilities, as well as the scope of Third Fleet operations in the Pacific and the role of the Carrier Strike Group. At the Naval Special Warfare Command, Harris was given an overview of Navy SEAL operations and capabilities, and their unique role in U.S. Special Operation Forces. Harris expressed her deep gratitude to all sailors and SEALs for the sacrifices of the men and women of the Navy, including fallen Navy SEAL, Special Warfare Operator First Class Remington Peters, who was memorialized at the base on Friday. The Navy is on the front lines of defending U.S. interests by sea and land. It is also a critical part of the San Diego community and economy, and the three naval bases in the region are responsible for roughly 300,000 jobs. The Navy, and its ability to operate in San Diego and Coronado, plays an essential role in our nation's security, domestically and around the world.
Be sure to visit our newsroom for the latest updates and to learn more about what Senator Harris is doing back in Washington.   
Thanks,
Julie
Julie Chávez Rodríguez
State Director
U.S. Senator Kamala D. Harris