| | | | |
| --- | --- | --- | --- |
| | | | |
| | | Caregiver support | |
| | | Native cultures emphasize respect for elders and a need to care for them. The LTSS TA Center offers resources to help tribes and tribal health providers support caregivers in providing care for the elderly. | |
| | | LTSS Research: Annotated Literature Review – Caregiver Support in Indian Country(PDF, 591 KB, 40 pp) includes information about caregiver support, ranging from funding to training for caregivers. | |
| | | The LTSS TA Center also features a profile of the Oneida Nation Elder Services(PDF, 187 KB, 2 pp), which supports caregivers through partnership with the Alzheimer's Association and by training caregivers who serve elders with dementia. | |
In case you missed it: A past webinar on improving dementia care
About half of the people with dementia are never treated, and most who receive treatment are not diagnosed during the early stages of the illness. Watch the recording of the CMS webinar "Tribal Nursing Homes: Improving Dementia Care" to learn how American Indians and Alaska Natives view dementia. The presenters also discuss how to incorporate effective dementia care practices and protocols into your health care facility.

Additional Resources
Hospice care in Indian Country
CMS recently released an updated report on hospice care in tribal communities, LTSS Research: Hospice in Indian Country (PDF, 991 KB, 11 pp). Hospice care helps provide comfort for patients with chronic or terminal illnesses who are nearing the end of life. It is usually offered to patients who are no longer seeking a cure for their illnesses and have life expectancies of 6 months or fewer.

The recent research explored in this 2017 report reaffirms the need to address barriers to compassionate, culturally appropriate hospice care in Indian Country. Specifically, it emphasizes the importance of honoring Native cultural values and traditions as a key step for reducing these barriers.

In line with the 2017 CMS report findings, a guide from the National Institute on Aging, End of Life: Helping with Comfort and Care, discusses the importance of relaying cultural customs to health care providers. The report provides information for caregivers about making health care decisions for people who are nearing the end of life and who may be unable to make their own decisions.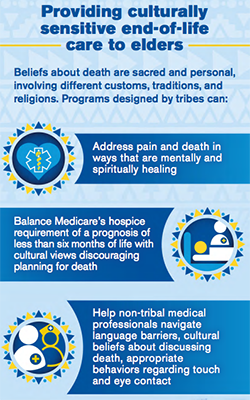 Funding opportunity: Reducing harm among the elderly
Reducing harm among elderly Native populations is a public health and human rights issue. The Administration for Community Living's funding opportunity, Elder Justice Innovation Grants, will help 5 programs develop evidence-based strategies to help protect elders.

The 2-year grants will range from $350,000 to $500,000. Applications are due by August 14, 2017.

Through this funding opportunity, programs can work to build evidence-based practices to reduce harm. Collecting and understanding data is key to developing successful policies and practices for Adult Protective Services Systems. For information about data analysis in your community, watch the CMS webinar on caring for your community by knowing the numbers.
Memory Care Forum Fall Conference
Sept. 14–15, 2017


Estancia La Jolla Hotel & Spa, San Diego, CA
Learn more and register

The Institute for Advancement of Senior Care's fall conference will cover dementia care topics like family traning and intervention, caring for dementia patients with histories of trauma, creating dementia-friendly environments, safe dining, and more.