Countdown to 

April 14

 March for Science
There's only a few weeks left to the next global Marches for Science. Are you ready to take to the streets and defend science? We need our politicians and leaders to hear us, loud and collectively: #ScienceNotSilence!   Make sure you RSVP for the 2018 Marches for Science today. And don't forget to tell your local officials that you will attend a MFS event on April 14 and will be marching to hold them accountable.
HOW TO PREPARE FOR YOUR MARCH
1. Share that you are going to your local march with your social media network. Here's a few graphics you can use in your posts.
2. Invite anyone and everyone who cares about science to our rally. We have power in numbers! Be sure to make a statement at your march.
3. Start preparing awesome signs that show your support for science!
4. For those traveling to local marches, consider offsetting your travel with our partner,Cool Effect.
FROM OUR BLOG: What Do Access and Access Mean to You?
As part of our ongoing Vote for Science campaign, last month we brought justice, equity, and access to the forefront of science advocacy. We asked people: What do these ideals mean in practice, to you and/or your community? 

We received stories of advocates from all around our network on how each play a role in their everyday lives to better break down barriers to access. You can read more of their stories in our Science Not Silence blog.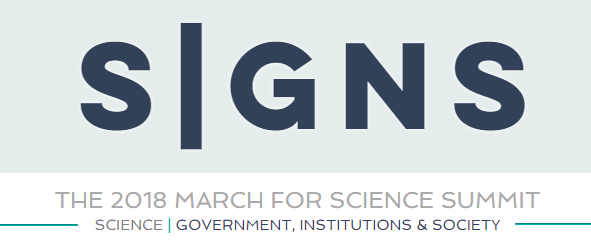 July 6-8

, Chicago 
The inaugural SIGNS (Science | Government, Institutions & Society) Summit will bring together leaders from across the scientific, advocacy, and education communities for a weekend of practical skill-building, idea-sharing, and community networking. From grassroots organizing to STEM advocacy, the 3-day event will feature March for Science hosted sessions and sessions co-developed with the community.
The future of science advocacy depends on coordinated action and diverse perspectives, yet few spaces exist for interdisciplinary collaboration and dialogue. We're creating one, and you're invited to join us. Do you have skills, tools, and/or a perspective that should be shared with the SIGNS Summit community? We are currently accepting applications for panels, workshops, and talks.


Ask Congress to Support and Fund Gun Violence Research TODAY
Join us as we call for Congress to fund the research we need to enact evidence-based policies to prevent gun violence.

The current restrictions on gun violence research limit our understanding of this epidemic and prevent us from enacting evidence-based policies that will protect our lives, our families, and our communities. We need research on gun violence to understand and respond to this nation-wide crisis.
ADD YOUR NAME TO THE OPEN LETTER TO CONGRESS NOW!
UPCOMING DATES 
Day of Action | April 13, 2018
Global Marches for Science | 
April 14, 2018